Hunan Travel Guide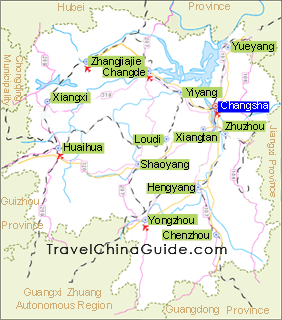 Hunan Facts
Chinese Name: 湖南 (hú nán)
Abbreviation: Xiang
Population: 69,184,000
Area: 211,800 square kilometers (81,776 square miles)
Location: in the south-central China
Administrative Division: 13 cities (Changsha, Zhuzhou, Xiangtan, Hengyang, Shaoyang, Yueyang, Changde, Zhangjiajie, Yiyang, Chenzhou, Yongzhou, Huaihua, Loudi); 1 autonomous prefecture (Xiangxi Tujia and Miao Autonomous Prefecture); 68 counties; 18 city-level counties; 36 districts
GDP (2019): CNY 3,975.21 billion (USD 576.201 billion)

Hunan Province is located in the middle of China and the middle reaches of the Yangtze River. It is named "Hunan" because most of its areas are located in the south of Dongting Lake and the abbreviation of Xiang is for the Xiangjiang River, the largest river in Hunan, running through the whole territory. The provincial capital is Changsha. It is adjacent to Chongqing and Guizhou to the west, Guangdong and Guangxi to the south and Hubei to the north. With a long history, Hunan has many historical remains including city remains, tombs, bronzewares, bamboo slips used in the Qin Dynasty (221 BC – 207 BC) and historical buildings. Hunan is also a popular tourist destination featuring magnificent natural scenery in Zhangjiajie and ancient residential buildings in tranquil Fenghuang Ancient Town.

When to Go
Hunan has a humid, subtropical climate. The monsoon rain falls mostly in April, May, and June. July and August are uncomfortably hot and humid. The best time to visit is in the fall, when temperatures are cooler and the rainfall lighter. For persons who live in cold northern climate, visiting it in the winter can be pleasant. After all, any place that grows oranges can't be all that cold. Low temperatures in winter are usually above freezing, with daily highs around 10

C. Annual rainfall is around 1,250 - 1,750 millimeters (49.2 to 68.9 inches). Northern part of the province has more climate extremes than its southern part. It can get colder in the winter and hotter in the summer.

See also Hunan Weather


Cities in Hunan
What to See
The headspring of life, Dongting Lake, is frequently mist-covered in the early morning. It is the second largest lake in China. Yueyang City, located on the shore of Dongting Lake, is home to one of the country's three famous towers. Yueyang Pavilion was originally built during the Tang Dynasty (618-907). The present pavilion is of recent reconstruction, built in the style of the Song Dynasty (960-1279).
| | |
| --- | --- |
| Zhangjiajie National Forest Park | Zhangjiajie National Forest Park |
In 1982, China established its first national forest park.
Zhangjaijie National Forest Park
was established in a particular scenic area in northwest Hunan. The park is especially known for its quartz-sandstone rock formations, bare stone sculpted by nature and set among green trees and frequent clouds.
The high and steep
Mt. Hengshan
is frequently snow-capped in the winter, contrasting with the subtropical fields that one sees below it. It is one of the five most famous mountains in the country. Known for its precarious cliffs, it is a holy mountain for both Taoists and Buddhists.
The region along the Yuanjiang River is especially well known for its serene beauty. It takes its name, the Peach Blossom Fountainhead, from a work of Chinese literature from
the Jin Dynasty (265-420). Tao Yuanming wrote about an isolated Utopia-like paradise where generations of people had escaped from the difficulties that others had experienced. The Yuanjiang River region has been a travel destination since ancient times.
Historic Changsha, one of China's famous cultural centers, is the capital of the province. It is also a tourism center, offering its visitors many historical sites and other places of interest.
Changsha Museum
is a good place to learn more about the history and culture of Changsha.
| | |
| --- | --- |
| Phoenix Town | Tuojiang River flows through Phoenix Town |
Highlights
Hunan cuisine has its unique flavor. Here, nearly every dish tastes hot, and delicious. The local people like eating peppery foods.

The products here include Xiang embroidery, one of China's four famous embroideries. It has high artistic value. With 200 years of history behind them, the chrysanthemum stone carvings of Liuyang are vivid and exquisite. Liuyang City is known for its firecrackers, which are popular all over the country.

Many great people have come from this province. In ancient times, Quyuan, a patriotic poet, committed suicide by throwing himself into the Miluo River. The story of his death and the search for his body started the tradition of Dragon Boat Festival. Chairman Mao, idol of the Chinese people, was born in Mt. Shaoshan. Zhu Rongji, one of the important leaders in the country, also comes from this province. Such famous people show that Hunan is a place that has cultivated talent as well as being a destination for visitors.

With abundant natural resources, the province covers 210,000 square kilometers (81,000 square miles). It is adjacent to Jiangxi Province in the east, Chongqing Municipality and Guizhou Province in the west, Guangdong Province and Guangxi Autonomous Region in the south, and Hubei Province in the north. The province has a total population of 64,400,700. It is multiethnic, with Miao, Dong, and Yao being the most numerous minorities. Their unique cultures and ethnic customs attract numerous visitors.

China Tour Packages
- Last updated on Apr. 25, 2023 -
Questions & Answers on Hunan Travel
Asked by Tommy from USA | Jul. 27, 2023 11:07

Reply
transportation from Fenghuang to guiyang
what is the best transportation after visiting Fenghuang going to Guiyang or I better going to Tongren first then to Guiyang since I'm going to visit Tongren too thanks
Answers (1)
Answered by Trace | Jul. 27, 2023 23:46

0

0

Reply
Yeah, the best way is going to Guiyang first, then taking a high speed train to Guiyang.
Asked by Andre from UNITED KINGDOM | Oct. 11, 2020 13:47

Reply
How to go by train from Changsha to lengshuitan ?
Answers (1)
Answered by Madelyn | Oct. 11, 2020 23:19

0

0

Reply
As I know, there is no direct train. You are suggested to take the long-distance bus from Changsha South Coach Station to Lengshuitan Coach Station. The bus schedules are 08:00, 09:00, 09:30, 11:10, 11:30, 12:30, 13:40, 14:20, 15:20 and 16:00. The ticket fare is CNY 117 per person.
Asked by Chen from INDONESIA | Dec. 26, 2019 21:36

Reply
How much to rent a car for 5 to 7 persons from changsha airport to fenghuang and furong town?
Answers (1)
Answered by Nina from THAILAND | Dec. 29, 2019 18:44

0

0

Reply
The distance between these two places is around 450km so there is no taxi driver will take you. I think you can take taxi to West Bus Station, then take direct bus to Fenghuang from there with CNY150/person and 5.5 hours on the way.
Asked by Mary Stefaniak from USA | Jul. 25, 2019 23:43

Reply
What is the best time of year to visit Hunan province?
Answers (1)
Answered by Diana from USA | Jul. 29, 2019 01:29

0

0

Reply
The best time is different according to areas. Generally speaking, the best time to visit Changsha is in autumn, while spring and autumn are all suitable to go to Zhangjiajie.
Asked by Nour from EGYPT | Jul. 07, 2019 01:56

Reply
what's the best way to plan a 6 day visit including Guilin, Yangshuo and Zhangjiajie?
We're budget travellers visiting Beijing in July. We're taking the High Speed train to Guilin then we have 6 days before we return to Beijing, how do you suggest we plan this to best use our limited time?
Many thanks!
Answers (1)
Answered by Jesse from AUSTRALIA | Jul. 15, 2019 02:03

0

0

Reply
Well, the time is a little tight and you can spend 3 days in Guilin and Yangshuo, 3 days in Zhangjiajie.

Day 1: Li River cruise to Yangshuo, West Street
Day 2: Countryside trip around Yangshuo and then take bus back to Guilin
Day 3: Reed Flute Cave, Seven Star Park, Elephant Trunk Hill.

Day 4: Tianmen Mountain
Day 5: Zhangjiajie Grand Canyon with the Glass Bridge
Day 6: Yuanjiajie Scenic Area, Tianzi Mountain Nature Reserve, Golden Whip Stream, Ten-mile gallery