Harbin Travel Guide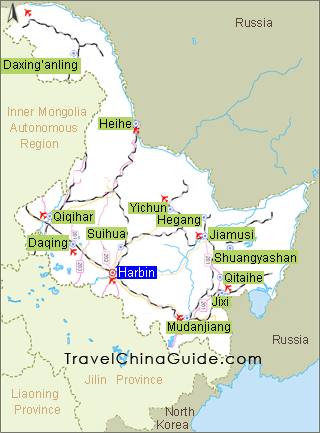 Harbin Facts
Chinese Name: 哈尔滨 (hā ěr bīn)
Population: 9,515,000
Area: 53,100 square kilometers (20,502 square miles)
Location: in the south of Heilongjiang Province, northeastern China
Administrative Division: 9 districts (Daoli, Nangang, Daowai, Pingfang, Songbei, Xiangfang, Hulan, Acheng, Shuangcheng); 2 city-level counties (Shangzhi, Wuchang); 7 counties (Yilan, Fangzheng, Binxian, Bayan, Mulan, Tonghe, Yanshou)
Area Code: 0451
Zip Code: 150000
GDP (2019): CNY 524.94 billion (USD 76.09 billion)
Ice City with Exotic Buildings
Harbin, as the capital and transportation center of Heilongjiang Province, is the largest city in the north of Northeast China. It is located in the south of Heilongjiang Province, bordering Mudanjiang and Qitaihe to the east, Yichun and Jiamusi to the north, Suihua and Daqing to the west, Changchun of Jilin Province to the south. Harbin is a must-see place when you visit northeast China. The city's rich Russian-style buildings and the beautiful snow sceneries are two important factors to attract tourists. A great number of Russian, Baroque and Byzantine styles buildings are left due to special history and geographical location. In winter, Harbin turned into a breathtaking ice city when the huge ice sculptures scattered in the parks and scenic areas are illuminated by colorful lights. In addition, skating, skiing, snow carriage and other kinds of snow sports are definitely worth experiencing. However, Harbin has more charm than that. All kinds of delicacies including Russian food, Northeast China stew, Harbin sausage and Harbin beer will satisfy your appetites.
You may like:


Top 10 Biggest Cities in China by Area


China Population by City: List of 50 Most Populated Cities
Being the famous 'Ice City', Harbin attracts visitors from home and abroad by the Harbin Ice and Snow Festival it helds each year. It is a happy carnival which provides visitors a whole world of ice and snow. The festival usually begins from January and last for over one month. The best collections of ice artworks are mainly exhibited in the following venues:

Ice and Snow World
Sun Island Scenic Area
Zhaolin Park
Ice Lantern Garden Party
Yabuli International Ski Resort

| | |
| --- | --- |
| Central Street | Ice and Snow World |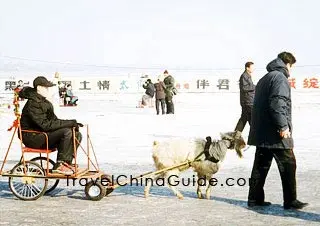 Bank of Songhua River in Winter
The economy and culture of Harbin achieved unprecedented prosperity at that time and the city gradually grew into a famous international commercial port. Assimilating external culture, the city created its unique and exotic cityscape. The majestic St. Sophia Cathedral and Central Street each built in a European style have the effect of bringing you into an 'eastern Moscow'. Even though you are sure to be attracted by various exotic buildings, the Dragon Tower which embodies the wisdom of the Chinese people is a must on your journey.

Besides these rich cultural heritages, this city is favored with beautiful natural scenery. Based on meandering Songhua River and subject to severe low temperatures in winter, the city boasts a unique ice and snow culture. So, it is also called the 'Ice City'. Each winter fantastic sculptures created from snow and ice, ice lanterns and exciting sporting events attract thousands of visitors from home and abroad. The cool summers make the city highly popular as a natural summer resort. It is widely accepted that the Sun Island Scenic Resort is the best choice during a sweltering summer.

Other Scenic Spots:
Harbin Ice Festival Tour: 4 Days city visiting including Sunisland Snow Sculpture, St. Sophia Cathedral, Centre Street, Grand World of Snow, etc
More China Tour Packages


Best Time to Visit Harbin
More info:

As of August 1st, 2015, foreign visitors from qualified countries can enjoy the 72 hours visa-free transit policy when transiting in Taiping International Airport.



Further Reading:
Top 10 Things to Do in Harbin
10 Best Cities in China for Budget Travelers
8 Interesting Places in China for Outdoor Enthusiasts
- Last updated on May. 23, 2023 -
Questions & Answers on Harbin Travel
Asked by Chong Meng Hwee from SINGAPOREC | May. 21, 2023 06:23

Reply
Dongningyao Saiqun Ruins Museum
Hello
We would like to check how to go to Dongningyao Saiqun Ruins Museum
東寧要塞群遺址博物館 from Harbin ?

Thanks and hear from you soon/

Answers (1)
Answered by Lily | May. 23, 2023 00:16

0

0

Reply
The two cities have a long distance of about 500 km and there is no train available. There are only long-distance buses operating and it takes about 6-8 hours to reach Dongning from Harbin. The bus departs from Nangang Passenger Station at 7:15 every day.

You can also take a train from Harbin to Mudanjiang first and then take a bus to Dongning, which will save some time. The train takes about 1.5-2 hours and the bus departing from Mudanjiang Guanghua Station to Dongning takes about 2 hours.

Upon arrival, you need to take a taxi or hire a car to the museum with the distance of about 20 km.
Asked by Waseem | Jan. 24, 2020 21:42

Reply
Hi, I'm thinking to visit Harbin in the last week of January.
Is it recommended to visit now due to new virus? Also, if it's okay then what you recommend and how many days are enough? Thank you
Answers (1)
Answered by Naomi from UKRAINE | Jan. 31, 2020 19:22

0

0

Reply
Well, to be honest, you are suggested to change the travel plan due to the virus. Generally speaking, 3 or 4 days are recommended sightseeing time. :)
Asked by Nike from INDONES | Jan. 21, 2020 04:43

Reply
Hai. How can i get Harbin airport shuttle bus from Bremen Train station hotel?
Answers (1)
Answered by Tina from CANADA | Jan. 21, 2020 17:34

0

0

Reply
You can walk to the Main Railway Station and take shuttle bus to the airport.
Asked by David from MALAYSIA | Jan. 08, 2020 05:11

Reply
Rime Island Weather
I hope to go to Rime Island on Jan 18 2020. Is the weather conditions good for rime then? Thank you
Answers (1)
Answered by Vivian from NEW ZEALAND | Jan. 08, 2020 18:49

0

0

Reply
The average temperature will be around -10C-10C in January, which is one of the best months to travel.
Asked by Eliza from MEXICO | Dec. 26, 2019 23:09

Reply
How I Can Go from Sun Island yo Ice and Snow World?
Is It Easy to Get taxis to Go Between The Scenic áreas?
Answers (1)
Answered by Ada from CANADA | Dec. 29, 2019 19:53

0

0

Reply
You can take taxi easily to it since it's only 5km between these two spots.