Comparing Travel Companies for Your Trip to China?
Comparison shopping travel companies for your trip to China? Smart move. Be sure to look beyond the itineraries - they are easy for any company to arrange - to the details. That's where the difference lies.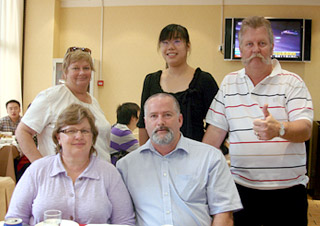 Our clients with our Travel Consultant at the restaurant
Guaranteed Prompt Response
Service has not been a quality nurtured in the past in China but we are determined to be among the world's best at it around the clock. Any time you e-mail us or make a phone call, you will get a prompt response. During the tour, if you encounter any emergency whatsoever day or night, you will find us very quickly since we are always ready to help you.
Speaking of emergencies, here we would like to share two of the typical cases that we have ever experienced in the midnight with our clients.
In September, 2001, we received a group of 14 clients from Holland. Their trip was 18 days Shanghai, Chengdu, Jiuzhaigou, Chengdu, Chongqing, Yangtze cruise, Wuhan, Guilin and Beijing. 65-year-old Mr. Go was the group leader. Before the trip commenced, he did not tell us anything about his health. But when he was touring on Yangtze cruise, he had a sudden heart attack at 03:40 deep in the night. Doctor on the ship gave him an emergency treatment, but of course the best way was to send him to the hospital immediately. However, the Princess Jeannie of Regal China was cruising on the Yangtze River. Mr. Go's wife called our staff for urgent help and our staff who picked up the phone quickly reported this to our Sales Director and General Manager. We contacted the cruise company and took some time to negotiate with them for stopping the ship at the nearest dock.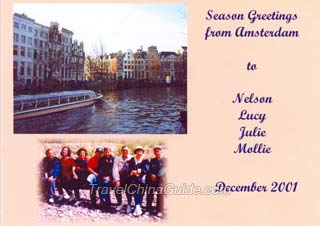 Season greetings card from Mr. Go's group
After about one and a half hours, the cruise ship reached the dock and our arranged ambulance was waiting there to send Mr. Go and his wife to Wuhan Union Hospital. Before they arrived, we have called the hospital to make some preparations. And our General Manger Mr. Wang asked our staff to book an early morning flight to Wuhan. Upon arrival, he directly went to the hospital to see Mr. Go and to meet the doctors. Mr. Go was implanted external cardiac pacemaker and he stayed in the hospital for over two days. It was Mr. Wang and our local agent manager in Wuhan took care of him all the time, delivering meals and accompanying on bedside. Mr. Go's wife was quite moved by this. At the same time, we also helped him contact his insurance company. Finally IAG (the International Assistance Group) sent charter flight from Singapore to Wuhan. Mr. Go and his wife were sent to Singapore for a better treatment. After about one month, Mr. Go wrote to tell us that he had recovered very well and expressed his great appreciation to us.

Hereunder is the thanks letters with appreciation from group members
Another case happened on May 18, 2004. One of our clients Mr. William Bowe from America (williambowe75@yahoo.com) had just finished a 10-day trip with us in Shanghai and was ready for departure for home the next day. When he was packing luggage at night, he found that he couldn't locate his passport. It was already at about 22:00 and his departure flight was early in the next morning, so he was very anxious. He called our office and our staff Sally picked up the phone and helped him obtain a list of all the places he had been for the whole day since he remembered having the passport. Then Sally made all the efforts to contact each place and finally found that he had left the passport in a bank of Zhenjiang when exchanging money, neighboring Shanghai. The bank security guard told Sally that they had been waiting for Mr. William Bowe's back to get his passport till the off-duty time since they had no way to contact him. Now the bank manager had taken it home. The guard gave the manager's cell phone number to Sally. At about 01:00 am, the manager was contacted. After we got his home address, we asked our local guide in Zhenjiang immediately took a taxi to the manager's home and obtained the passport. Then our guide continued to take a taxi to Shanghai Huating Hotel. Finally at 05:00 the passport was delivered to Mr. William Bowe in time for his scheduled flight.
Still there were many affecting cases and experiences happened between our clients and us. We will not share them one by one here. But we were extremely happy that we really helped our clients a lot with our dedicated services. That is the kind of service we strive to render each and every time.
Meals
You probably know that most travel companies arrange meals at so-called tourist restaurants. These serve mass-produced dishes with pretty much the same menu in every single city. Arrive a bit late and you will find your dishes have been waiting at your assigned table limp and cold. On our tours, we take great pride in offering some a la carte meals at famous local restaurants and some buffet dinners at the hotels. It is our belief that food is every bit a part of your experience as seeing The Great Wall and other treasures.
We include the value of a la carte meals in our itineraries. Don't want a particular meal? No problem. We will refund the listed price. Ask our competitors if they will refund the entire price – and get that promise in writing. We just gave you ours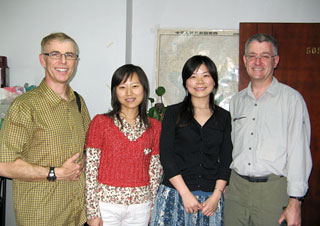 The clients with our Travel Consultants at our office
Hotels
All 5 star -- or 4-star or 3-star -- hotels are not equal. They vary widely in facilities and service quality. We choose carefully based on our own research and feedback from our guests. In some places, we have chosen a 4-star hotel over a 5-star due to its advantages, giving you greater value without loss of comfort and service. And we haven't hesitated to abandon booking a hotel whose quality slipped and failed our exacting standards.
A visit to China is often a once-in-a-lifetime adventure. Make sure the memories are all good ones by choosing a travel company which may or may not be the cheapest but which is thoughtful, reliable and service-proud.